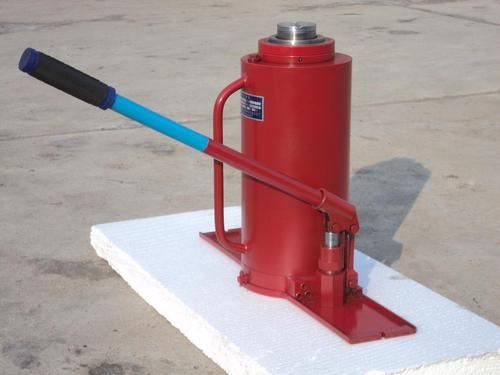 Jacks can be divided into screw jacks and hydraulic jacks according to their structural characteristics. Their working principles, characteristics and scope of use are different. In this article, we compare their different characteristics.

First, the working principle is different
Hydraulic jack: The hydraulic jack is based on the Pascal principle, that is, the pressure across the liquid is the same. In a balanced system, the pressure on the smaller piston is smaller, and the pressure on the larger piston is larger. Therefore, through the transmission of liquid, different pressures at different ends can be obtained, so as to achieve the purpose of transformation.
Mechanical jack: The mechanical jack uses the mechanical principle to reciprocate the handle to push the ratchet wheel to rotate. The small bevel gear drives the large bevel gear and rotates the weight lifting screw, so that the lifting sleeve can be lifted or lowered to achieve the function of lifting tension.

Second, the characteristics are different
Hydraulic jack: compact structure and stable work.
Mechanical jack: simple structure, large lifting weight, lightweight, easy to carry, easy to maintain and safe to use.

Third, the scope of application is different
Mechanical jack: It is often used for railway vehicle maintenance, mine, construction engineering support, and general heavy object lifting and lowering.
Hydraulic jack: It is used in construction sites in daily life, and heavy-duty support in traffic accidents.