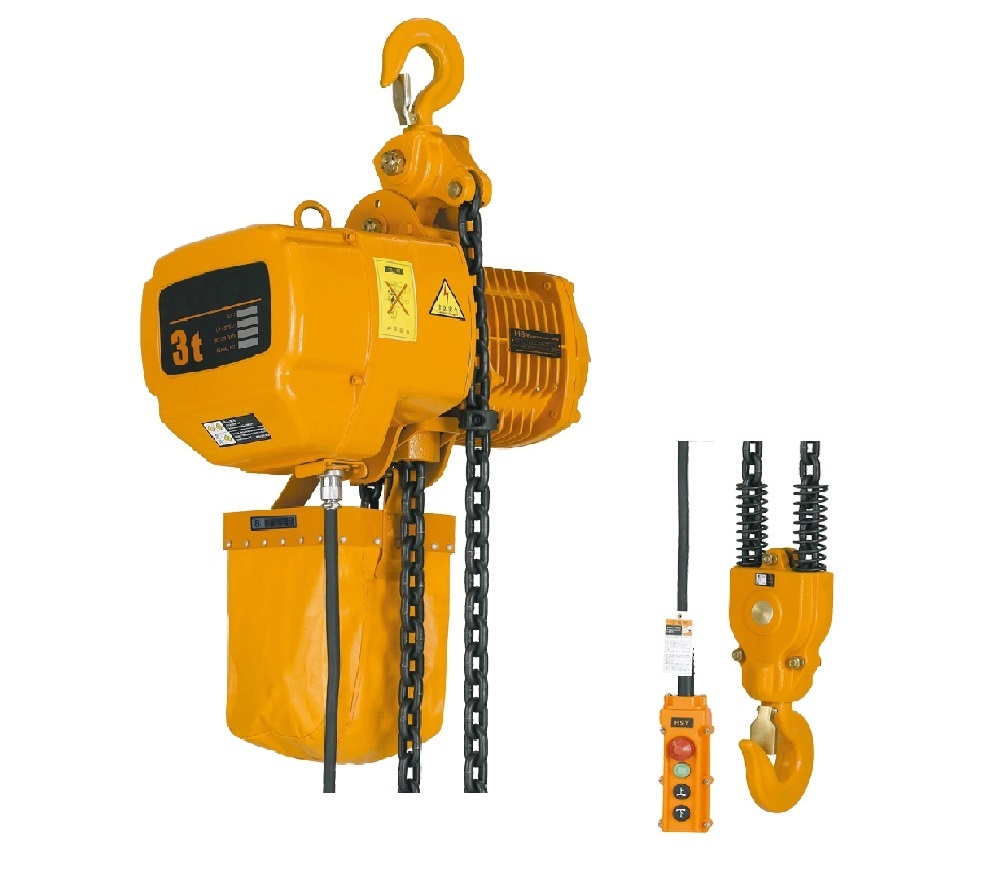 Features:
Shell: Light aluminum alloy shell which is light but hard and fit for the use in the terrible work environmen.
Reverse protection device: It is a special electrical device, when the power wiring is wrong, the control circuit cannot work.
Limit switch: The limit switch is installed where the weight is lifted on and off to make the motor to stop automatically for safety.
24V/36V device: it can prevent accidents from switch leakage during operation
Side magnetic braking device: This device shall realize the instant brake in case of the power dump.
Chain bag: Light, beautiful and durable.
Chain: The chain shall adopt the imported FEC80 ultra heat-treatable Alloy steel chain.
Type
Capacity
(ton)
Standard
Lifting
Height
(m)
Lifting
Speed
(m/min)
Lifting Motor
Trolley Motor
I-Beam
Power
(Kw)
Rotation
speed
(r/min)
Phases
Voltage
(v)
Frequency
(Hz/s)
Power
(Kw)
Rotation
speed
(r/min)
Trolley
speed
(m/min)
(m/m)

CRA-0.5-01

0.5

3/9

7.2

1.1

1440

3

200-600

50

0.4

1440

11/21

58-153

CRA-01-01

1

3/9

6.8

1.5

1440

3

200-600

50

0.4

1440

11/21

58-153

CRA-01-02

1

3/9

3.4

1.1

1440

3

200-600

50

0.4

1440

11/21

58-153

CRA-015-01

1.5

3/9

8.8

3

1440

3

200-600

50

0.4

1440

11/21

82-178

CRA-02-01

2

3/9

6.6

3

1440

3

200-600

50

0.4

1440

11/21

82-178

CRA-02-02

2

3/9

3.3

1.5

1440

3

200-600

50

0.4

1440

11/21

82-178

CRA-025-01

2.5

3/9

5.4

3

1440

3

200-600

50

0.75

1440

11/21

100-178

CRA-03-01

3

3/9

5.4

3

1440

3

200-600

50

0.75

1440

11/21

100-178

CRA-03-02

3

3/9

4.4

3

1440

3

200-600

50

0.75

1440

11/21

100-178

CRA-03-03

3

3/9

2.2

1.5

1440

3

200-600

50

0.75

1440

11/21

100-178

CRA-05-02

5

3/9

2.7

3

1440

3

200-600

50

0.75

1440

11/21

100-178
Compared to the electric wire rope hoist, the electric chain hoist is smaller in volume. The electric chain hoist consists of a motor, a transmission mechanism and a sprocket. The biggest difference from the electric wire rope hoist is that the wire rope is replaced by a chain. The lifting capacity is generally 0.5 to 20 tons, the lifting height is 3 to 9 meters. The electric chain hoist retains the light and convenient characteristics of the chain hoist and improves the manual operation of the manual chain hoist which is slow in lifting speed. It combines the advantages of the manual chain hoist and the electric wire rope hoist. The electric chain hoist has a compact and compact structure, which is small in size, lightweight, high efficiency, easy to use and simple maintenance