HS-T type chain hoist (Manual Chain Block)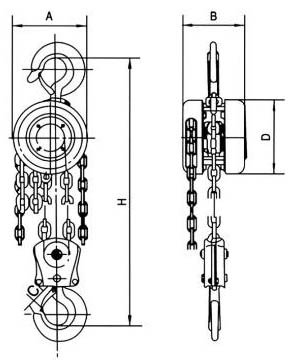 HS-T type chain hoist advantage:

1. The thickened high strength provides accurate gear centering and high mechanical effectively.
2. The hang-sling plate design ensures convenient for assembly and disassemble.
3. A sealed bottom hook within the wheel would reinforce the hook. This design also can prevent any torsion of the load chain.
4. Adoption of the deep groove ball bearing of load chain sprocket, pulling is smaller. Equipped with needle bearing for supporting the driving shaft it to increase the mechanical advantage.
5. In case one of the pawl spring is damaged, the other maintains its functions. This mechanism further increases sureness.
























Related Products:
VC-B Type Manual chain block VC-A Type Manual chain block HS-T Type Manual Chain Block HS-Z Type Manual Chain Block K-II Type Manual Chain Block HSK Manual chain block HSVD Manual chain block VL Type Lever Block VA Type Lever Block GCL/GCT Trolley CD1 Electric Wire Rope Hoist Mini Electric Hoist