A 4 leg chain sling has four lengths of Grade 80 chain connected to a top master oblong link. A hook is fitted on each end, and can also be at the top rather than an oblong link. Available hook options include foundry hooks, grab hooks, latched sling hooks, or hammerlocks. Oblong links instead of hooks are also a possible configuration.
This type of sling is also known as a quad leg chain sling or a 4 leg bridle chain sling chain since this configuration is designed to be used with a bridle hitch with four pick points. Four legs are the maximum number of chain lengths available on one chain sling assembly, and this quadruple style offers greater load stability than a sling with only one, two, or three legs.
Our chain slings are manufactured with Grade 80 alloy chain and fittings. The chain has a varnished finish, and the fittings are powder-coated for better corrosion-resistance.
The 4 leg chain lifting sling is also available as an adjustable chain sling, with four additional lengths of the chain (6 inches each in length), with a hook on the end. These lengths are also attached to the master oblong and are designed to enable the user to shorten the length of the chain as needed without a reduction in WLL.
Proof Testing
Proof testing has been done on every link of the chain to 2.5 times it's working load limit. To get your custom chain sling tested at the time of manufacture, it must be requested when the order is placed with our sales specialists. For an additional fee, we will proof test your sling and issue a certificate when requested at the time the order is placed.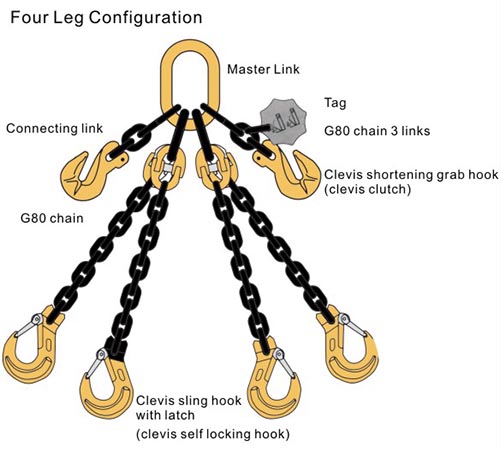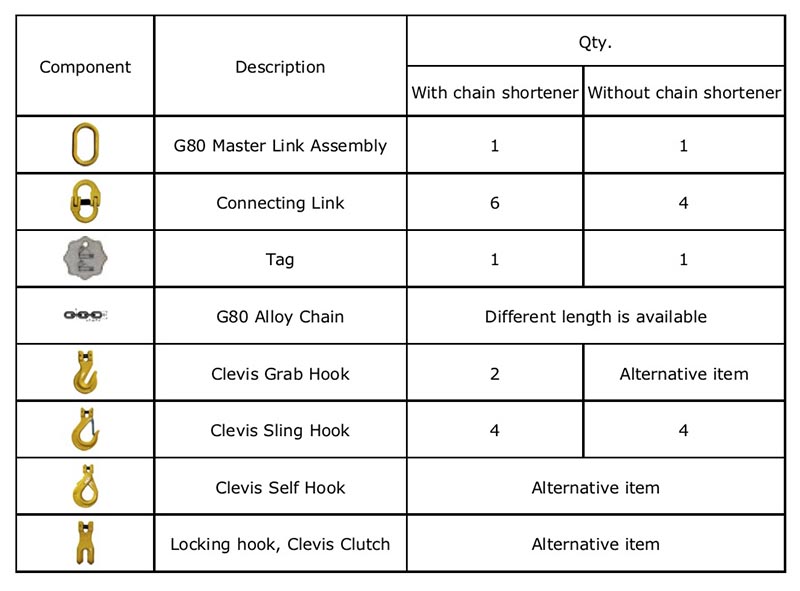 Related Products:
Grade 80 Lifting Chain G70 Lashing Chain Golden Galvanized Lashing Chain with Eye
Single Leg Chain Sling 2 Leg Chain Sling 3 Leg Chain Sling 4 Leg Chain Sling