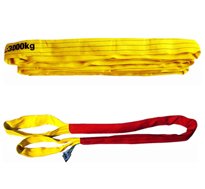 The webbing sling is woven by a knitting machine, the edges of the webbing are always in a tightened state. Once the webbing edges are worn, especially the flat sling belt under stress, it will undoubtedly increase the damage. So when we find that the edge of the webbing is worn, we should stop using it immediately.

There are two main causes of the wear of the webbing sling.
The first case is that the surface of the object to be lifted is rough, which causes the edge fibers to wear due to the friction of the lifting belt. Such abrasion can be understood as the indirect wear of the fiber wire.
The second situation is completely opposite to the first one. When the edge of the object is too sharp and the sling is under stress, the cuts were formed instantly. This kind of edge cut is more dangerous for the sling, because this is formed instantaneously. If the speed is too fast and the shaking force is too large, the object to be lifted may fall instantly.

Therefore, when lifting a suspended object, whether it is too rough or the edge is too sharp, you need to take measures.

1. Protective sleeve or rubber and other wear-resistant materials when using the lifting strap.
2. Avoid the goods hanging on the lifting belt for a long time, every time the shaking process wears the lifting belt.
3. Avoid carrying cargo with sharp corners and edges during lifting to reduce friction.
4. Lay the lifting straps one time before the goods are lifted, to avoid dragging the lifting straps to find the correct position.