Hand pallet truck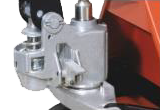 One-piece cast pump with reliable oil-proof hydraulic systems.


Effortless pallet entry/exit rollers to make it easier to push and pull pallet truck.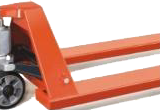 Reinforced for added strength of load capacity.


The manual hydraulic pallet truck is the most convenient, most effective and most common handling and handling tool. Manual hydraulic pallet trucks have been widely used in the handling of goods in the workshop.

The AC-type truck uses an integral cast oil pump that is aesthetically pleasing and durable. The product uses high-quality steel plate and the valve core adopts integral parts, which greatly prolongs the service life.
High quality seals, integral spool, chrome-plated piston rod.
One-piece cast wheel frame with double front wheels for strong load carrying capacity.
The alloy bushing is installed at the rotating part to absorb the eccentric load, resist wear and prolong the service life.


Related Products:

Hydraulic Bottle Jack Permanent Magnetic Lifter