■ Material: high-quality alloy steel
■ Surface treatment: electric galvanized.
■ Manufacture standard: ISO, DIN, BS
■ Quality grade: G70
■ Safety factor: min.4
■ Product marking: required by the client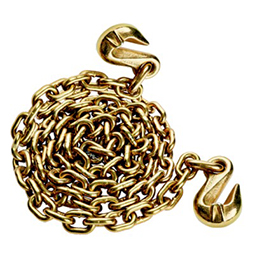 The ultimate elongation of uncoated chains (in their natural state) is not less than 25%.
The ultimate elongation of chains with surface treatment is not less than 20%.
The ratio of the carrying capacity to the trial load to the destructive load is 1:2, 5:4, respectively.
The value of the allowable carrying capacity of chains varies depending on the range of operating temperatures according to DIN 818-6.
Related Products:
Grade 80 Lifting Chain G70 Lashing Chain Golden Galvanized Lashing Chain with Eye
Single Leg Chain Sling 2 Leg Chain Sling 3 Leg Chain Sling 4 Leg Chain Sling