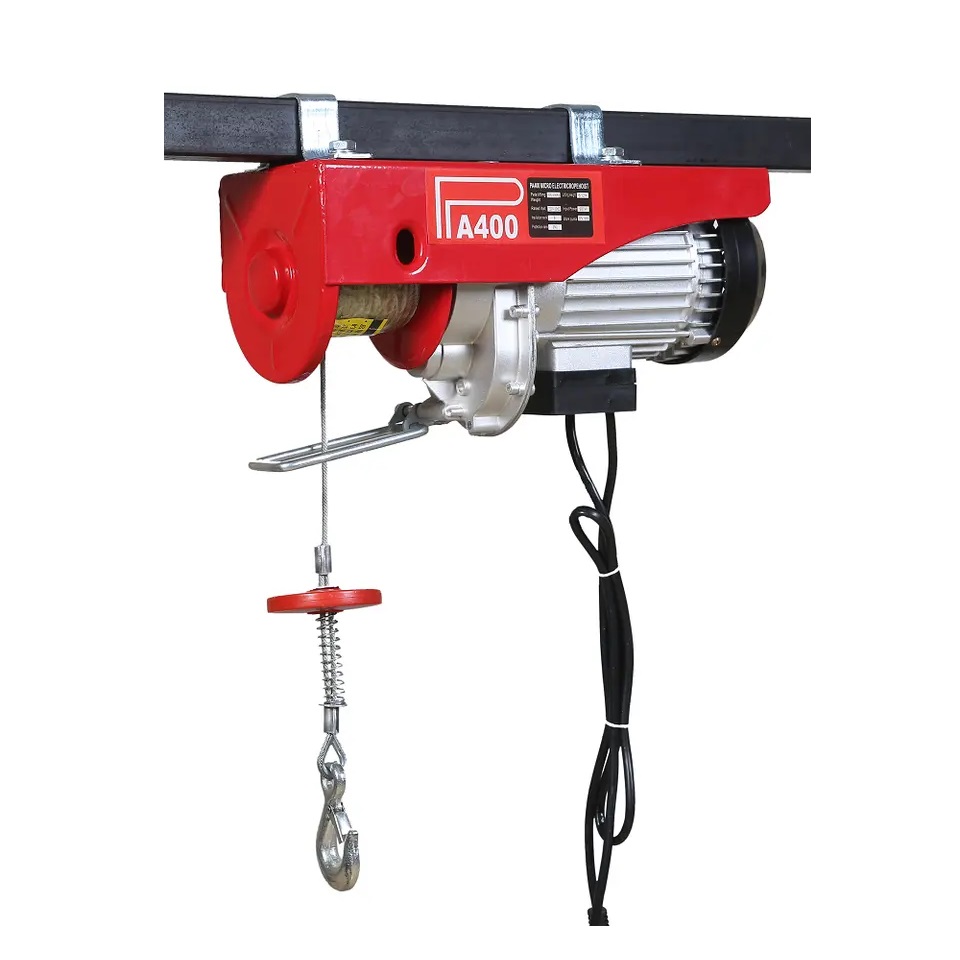 Features of Mini Electric Hoist:

1. Excellent control characteristics, the minimal setting force required, designed for one-hand operation.
2. Heat-treated suspension hook and load hook.
3. The stator and rotor are 1cm longer than other similar parts of the motor on the market, and more copper wires are used, make sure that the motor heats up more slowly, the power is greater and more secure.
4. Motor shell and gearbox are specially thickened.
5. Each motor must be strictly inspected, unqualified products must not be allowed to leave the factory.
Model

Hook

Voltage

Power

Capacity(kg)

Lifting speed(m/min)

Lifting height(m)

Quantity (PCS)

Packing size(cm)

G.W /NW(kg)

(V)

(W)

PA200

Single hook

110/220/230

510

100/200

10/5

12/6

2

38*32*25

24/22

Double hook

PA250

Single hook

110/220/230

550

125/250

10/5




2

38*32*25

25/23

Double hook

12/6

PA300

Single hook

110/220/230

600

150/300

10/5

12/6

2

38*32*25

26/24

Double hook

PA400

Single hook

110/220/230

980

200/400

10/5

12/6

2

45*33*27

34/33

Double hook

PA500

Single hook

110/220/230

1020

250/500

10/5

12/6

2

45*33*27

34/33

Double hook

PA600

Single hook

110/220/230

1200

300/600

10/5

12/6

2

45*33*27

35/34

Double hook

PA800

Single hook

110/220/230

1300

400/800

8/4

12/6

2

45*33*27

38/37

Double hook

PA1000

Single hook

110/220/230

1600

500/1000

8/4

12/6

1

54*25*32

33.7/32.7

Double hook

PA1200

Single hook

110/220/230

1800

600/1200

8/4

12/6

1

54*25*32

33.7/32.7

Double hook




Related Products:


CD1 Electric Wire Rope Hoist VC-B Type Manual chain block VC-A Type Manual chain block HS-T Type Manual Chain Block HS-Z Type Manual Chain Block K-II Type Manual Chain Block HSK Manual chain block HSVD Manual chain block VL Type Lever Block VA Type Lever Block GCL/GCT Trolley