HSK chain hoist (HSK Manual chain block)


1. All steel construction-impact resistant covers that provide durability and protection.
2. Double pawl and double guide rollers enhance performance, safety, and reliability.
3. Unique curling design: This feature enables the hand chain to successfully feed directly into the wheel sprocket from many directions and angles.
4. Grade 80 load chain: with black coated surface, made strictly according to standard EN818-2.
5. Hooks are forged with super alloy steel, tempered and quenched, which rotate 360 degrees make it easy to work in different places.
6. Sealed roller bearing greatly improves the performance and service life of the product.
7. Each product was tested with 1.5 times of working load and offered a quality certification with traceability.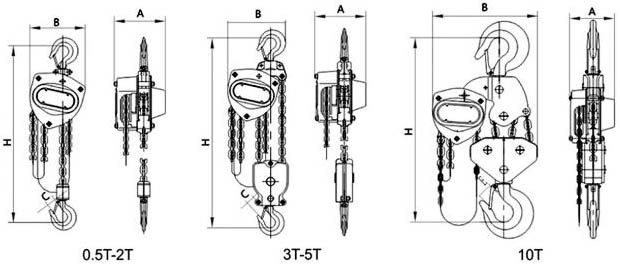 HSK chain hoist

1.Double pawls supporting fail-safe brake mechanism for secure operations.

2.Wet friction discs with longer life.
3.Unique chain guide.
4.Heat-treated steel side plates, gears, and shafts for enhanced strength.
5. Quenched and Tempered High Tensile Alloy Steel Chain and hooks.
6. Forged upper and bottom hooks with forged steel safety latches.
7.Powder-coated finish.




HSK Manual chain hoist parameters

Related Products:

CD1 Electric Wire Rope Hoist Mini Electric Hoist VC-B Type Manual chain block VC-A Type Manual chain block HS-T Type Manual Chain Block HS-Z Type Manual Chain Block K-II Type Manual Chain Block HSVD Manual chain block VL Type Lever Block VA Type Lever Block GCL/GCT Trolley