GCL/GCT Trolley

GCL-A/GCT-A type cargo trolley with high-strength alloy steel structure, ensure quadruple security payload, dexterous, and security.

GCL Trolley parameters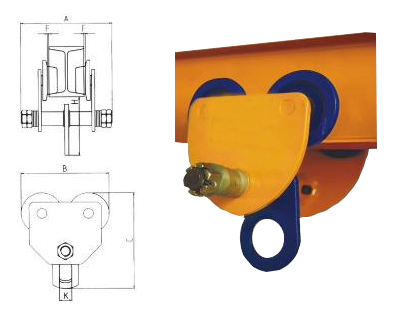 GCT Trolley parameters


Plain Trolley Features:
1. The trolley enables the exact positioning or easy traversing of large loads with either manual or powered hoisting equipment.
2. It's excellent rolling features due to machined steel mounted on pre-lubricated, encapsulated, and bearings.
3. Adjustable to fit a wide range of beam widths and profiles.
4. Buffers can be fitted in the filed.
5. Zinc plated design for applications, which demand higher standards of protection against corrosion.
6. Every model GCL-A/GCT-A is factory tested with overload. The units are supplied with a test certified and operating instructions manual.


Related Products:

CD1 Electric Wire Rope Hoist Mini Electric Hoist VC-B Type Manual chain block VC-A Type Manual chain block HS-T Type Manual Chain Block HS-Z Type Manual Chain Block K-II Type Manual Chain Block HSK Manual chain block HSVD Manual chain block VL Type Lever Block VA Type Lever Block