K-II type chain hoist (K-II Type Manual Chain Block)



1. Standard G80 alloy steel chain.
2. The opening of the hooks has been made wider for easier handling and working. And if by any chance the hook is overloaded, there is no fear of its breaking, and it will simply start straightening out gradually, avoiding any load drop human injury.
3. The tough gear case, reinforced with four ribs and four knock pins, provides accurate gear centering and high mechanical efficiency.
4. Rolled edge hand wheel cover. This provides smooth operation of the hand chain when pulled sideways.
5. Strong and least-corrosive electrostatic powder painting.
6. Thickish friction discs with longer life.
7. Unique chain guide.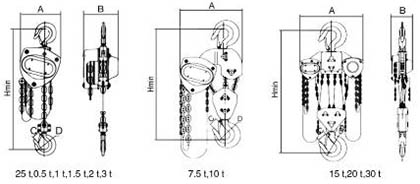 K-II type chain hoist

1.Double pawls supporting fail-safe brake mechanism for secure operations.

2.Wet friction discs with longer life.
3.Unique chain guide.
4.Heat-treated steel side plates, gears, and shafts for enhanced strength.
5. Quenched and Tempered High Tensile Alloy Steel Chain and hooks.
6. Forged upper and bottom hooks with forged steel safety latches.
7. Powder-coated finish.

K-II Type Manual Chain Hoist parameter



Related Products:

CD1 Electric Wire Rope Hoist Mini Electric Hoist VC-B Type Manual chain block VC-A Type Manual chain block HS-T Type Manual Chain Block HS-Z Type Manual Chain Block HSK Manual chain block HSVD Manual chain block VL Type Lever Block VA Type Lever Block GCL/GCT Trolley