VL Type Lever Hoist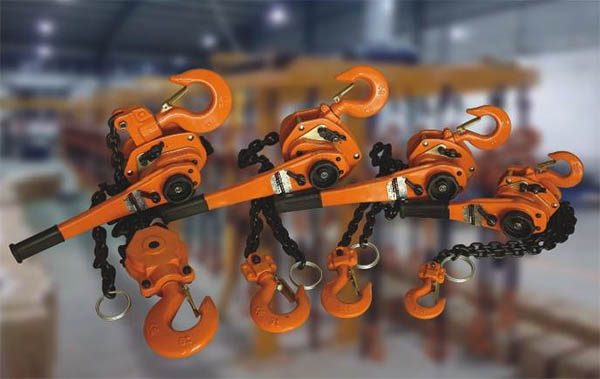 1. Adopting the deep groove ball bearing of load chain sprocket, pulling is smaller. Equipped with needle bearing for supporting driving shaft it to increase the mechanical advantage.
2. Adopting double pawl brake system and double chain guide roller system, the operation is more safe and stable.
3. The top and bottom hook is made of forged high strength alloy, accomplished by the heat treatment process. The hook also has three stretch indicators. However if by any chance the hook is overloaded there is no fear of breaking, it will simp.y gradually start straightening out, avoiding any load drop or personal injury.
Precision cast steel latch in the bottom hook with embedded design can prevent the bottom hook of effectively.
4. Double-pawl brake system designed for enhanced strength, forget upper, lower hooks with forged steel safety latches, high tensile alloy steel chain.
5. The free-wheeling mechanism for quick chain adjustments.
6. 360 rotating handles of ease of use in confined space.
7. The excellent mechanism to allow fast adjustment of the load chain.
VL Type Lever Block parameters



VL Type Lever Hoist Related Products:

CD1 Electric Wire Rope Hoist Mini Electric Hoist VC-B Type Manual chain block VC-A Type Manual chain block HS-T Type Manual Chain Block HS-Z Type Manual Chain Block K-II Type Manual Chain Block HSK Manual chain block HSVD Manual chain block VA Type Lever Block GCL/GCT Trolley